An insight into china new cosmetic regulation
Time: 2022-06-07
More robust cosmetics legislation around the world
More robust personal care and cosmetics legislation is taking shape around the world. In 2021, Japan launched a new version of the overarching technical standards for quasi-drugs - Japanese Standards of Quasi-drug Ingredients (JSQI 2021). South Korea introduced the natural and organic cosmetic raw material certification mechanism. Starting from March 1, 2022, EU Omnibus Act IV is applicable. 23 new ingredients, including Lilial and Zinc Pyrithione, are now prohibited for use in cosmetics. On April 13, 2022, the United Kingdom notified the WTO of a draft regulation aiming at revising the Ingredient Lists in Cosmetic Regulations: Skin Whitening Agent Deoxyarbutin and 38 CMRs Banned which will be effected from October 15, 2022. From May 1, China Measures For the Administration of Cosmetics Labels come into force and when applying for registration and filing of children's cosmetics, labels shall be marked as required.
China CSAR updated cosmetics regulation on Jan 1, 2021
After 30 years of waiting, China implemented the Cosmetic Supervision and Administration Regulation (CSAR) on Jan 1, 2021. A series of supporting rules are being introduced and implemented, indicating the overhaul of China's cosmetic regulatory framework. It contains several big changes that impact current cosmetic companies and cosmetic ingredient suppliers. The main authority for cosmetics is National Medical Products Administration (NMPA), previous called CFDA. Both domestic and imported cosmetic products require pre-market approval or notification before they can be placed on Chinese market. Thus how to comply with cosmetics regulations in China become a key problem for many cosmetics industry companies, and we are here to have an insight into china new cosmetic regulations.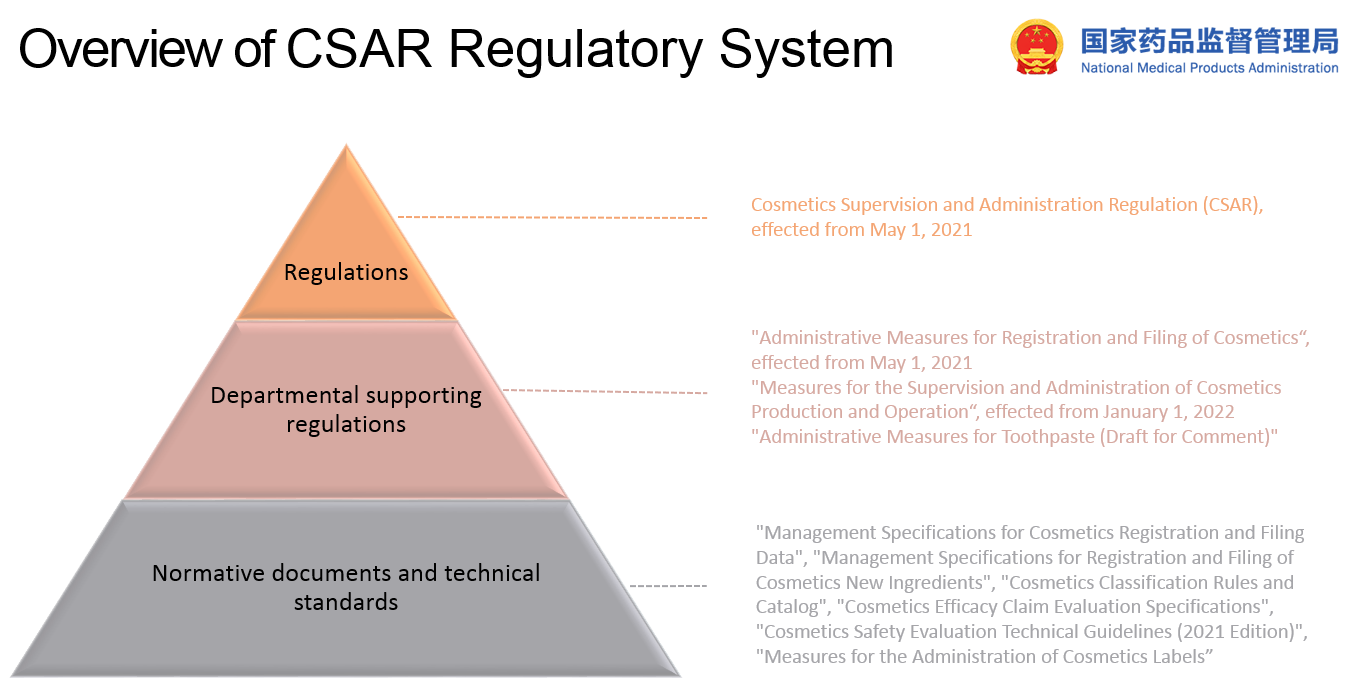 Cosmetic products are divided into two categories: general cosmetics and special cosmetics. Special cosmetics include hair dyes, hair perms, whitening products, sunscreen products, anti-hair loss and products with new efficacy. General cosmetics include other cosmetic products.

Regulatory requirements for general cosmetics and special cosmetics are different. General cosmetics only require filing notifications while special cosmetics must be registered and approved before they can be marketed in China. Registration certificates are valid for five years, and filing certificates do not have an expiry date.

For general cosmetics (excluding cosmetics for children and infants), relevant animal tests can be waived if the manufacturer of ordinary cosmetics has obtained Good Manufacture Practice (GMP) certificate or equivalent production quality management system certification at the country of origin and can provide a product safety assessment report demonstrating the safety of a product. However for special cosmetics, toxicological tests cannot be waived, and also efficacy data to support product claims and human safety tests must be submitted.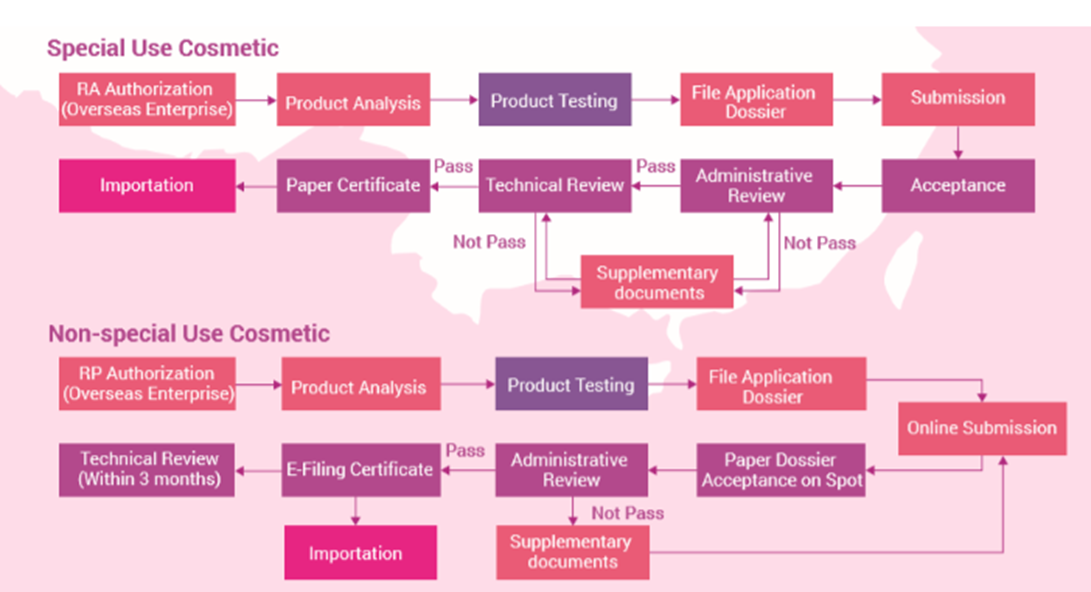 Cosmetic ingredients are divided into new ingredients and existing ingredients. New cosmetic ingredients are the ones that not included in the Inventory of Existing Cosmetic Ingredients (IECIC) 2021, and if with higher risk (preservatives, UV filters, hair dyes, whitening agents, and colorants), they are subject to registration with the NMPA, and other new cosmetic ingredients have to be filed with the NMPA. Within three years after the registration or filing of the new cosmetic ingredient, it is necessary to provide annual reports on the safety and usage of the new ingredient. New ingredients without any safety concerns will be added to IECIC. However, for ingredients with safety issues, the NMPA will cancel their registration or filing certificate.

Existing cosmetic ingredients are those included in the IECIC 2021 and should be comply with regulatory lists set out in Safety and Technical Standards for Cosmetics. What's more, from a practical perspective, their safety information should be reported the NMPA via the Cosmetic Ingredient Safety Information Platform and a submission code is acquired. The code can be provided to their downstream users for their cosmetic product filing & registration in China.