Founded in 2014, Nanjing Leon Biotechnology Co., Ltd. is a holding subsidiary of Spec Chem Group. Located in the National Free Trade Zone – Shi Lin Industrial Park of Jiangbei New District, it is a professional peptide company integrating research and development, application, production, sales and after sale service. In 2017, it was awarded "Nanjing Peptide Engineering Technology Research Center" by Nanjing Science and Technology Commission, and in 2019 it was also awarded "Nanjing Beauty Peptide Engineering Research Center" by Nanjing Development and Reform Commission. Spec Chem's core team member are all senior experts with more than 10 years of professional experience in the peptide industry and have rich experience in liquid phase synthesis and solid phase synthesis.
Leo Biotechnology Co. Ltd. has many sets of large solid-phase and liquid-phase reactors, six sets of large preparation-liquid chromatography systems (>150mm), more than 20 sets of semi-preparation-liquid chromatography systems, and a lot sets of Agilent USA liquid chromatographs, Waters USA liquid chromatographs and mass spectrometers. With first-class peptide synthesis and purification technology, Spec Chem established a fast, high-throughput peptide synthesis platform with hundreds of thousands of peptide product library, and can synthesize cosmetic peptide ranging from 2 to 120 amino acids with purity up to 99%. The annual production capacity (lyophilized powder) reaches more than 100 kg. At the same time, Spec Chem can meet the various needs of different customers, provide customized services for universities and pharmaceutical research institutions, and can provide customers with a variety of peptide modification services, such as isotope labeling (2H, 15N, 13C), polyethylene glycol modification, a variety of disulfide bond modification, carier proteins KLH, BSA, OVA coupled polypeptide modification; Acetylation, amination, methylation, biotin labeling, fluorescence and other modifications. The beauty peptides developed and produced by Spec Chem have following functions: anti-wrinkle, anti-aging, anti-spot, anti-inflammatory, anti-sensitivity, antioxidant, whitening, tightening, repairing, soothing, promoting hair growth, promoting hair to turn black, removing eye bags and dark circles, breast enhancement and weight reduction and etc.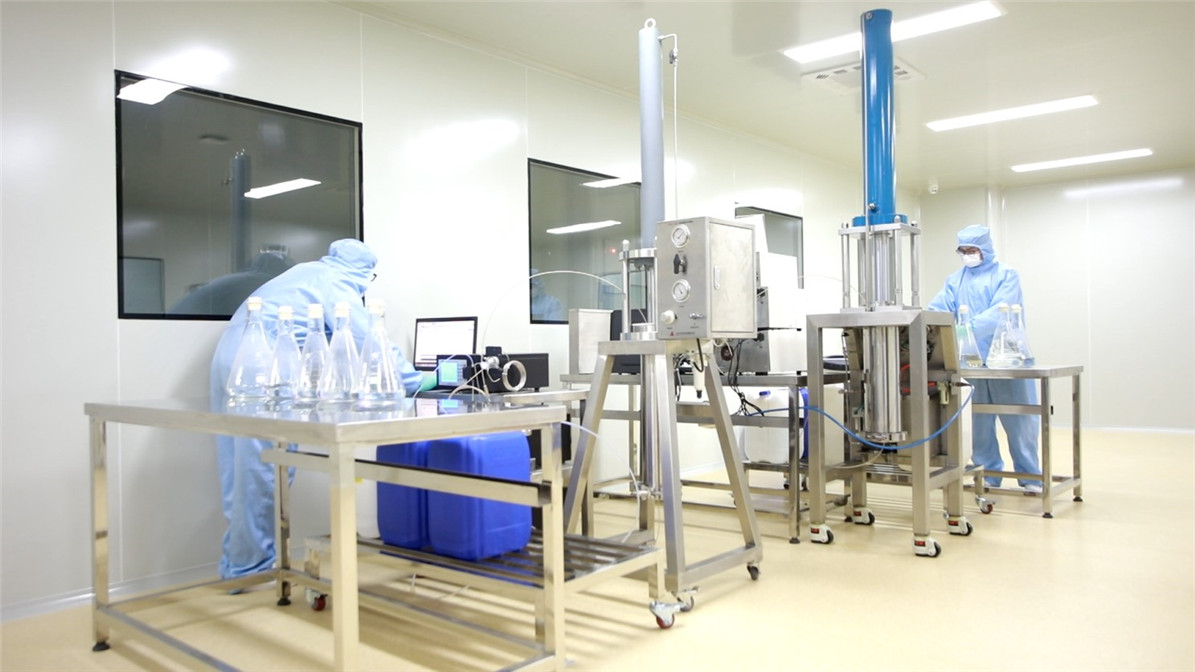 Leo Biotechnology Co. Ltd. owns a purification workshop covering an area of 900 m2 for the purification preparation, freeze-drying and packaging of peptides in line with the pharmaceutical GMP standard. The company has established a strict quality management system, established a GMP workshop and a high-quality quality management team in accordance with international standards, and strictly followed SOP to achieve an effective quality assurance system. With proprietary intellectual property rights, the patented technology of polypeptide separation and purification improves the yield and quality of the final product and greatly improves the market competitiveness of the product.